Books are just like ships that can take us everywhere in a journey of discovery and pleasure, for this aim, Hurras network has established a library van project in the city of Azaz, north of Aleppo, as the first of its kind in the region, to encourage children to read and acquire knowledge.
The library is a mobile van that includes hundreds of children's books and scientific books. It travels between all areas including remote areas of Al-Furat Shield and Ghosn al Zaytoon which lack such services.
"The library targets children between the ages of 5 and 15 in schools, camps and various remote areas where such services are poorly provided and are most needed, " said Abdulla Al Halbouni, a communications officer in Hurras network.
The beautifully colored library has more than 400 books and stories and it is accompanied by a psychosocial support team to provide children with psychological and recreational activities and conduct various entertaining competitions.
By talking about the library van project, Al Halbouni explained that the child chooses freely a book or story that he likes to read and then he summarizes what he has read and receives a gift from the psychological support team.
"The purpose of this project is to encourage children to read in order to be familiar with other cultures," he added.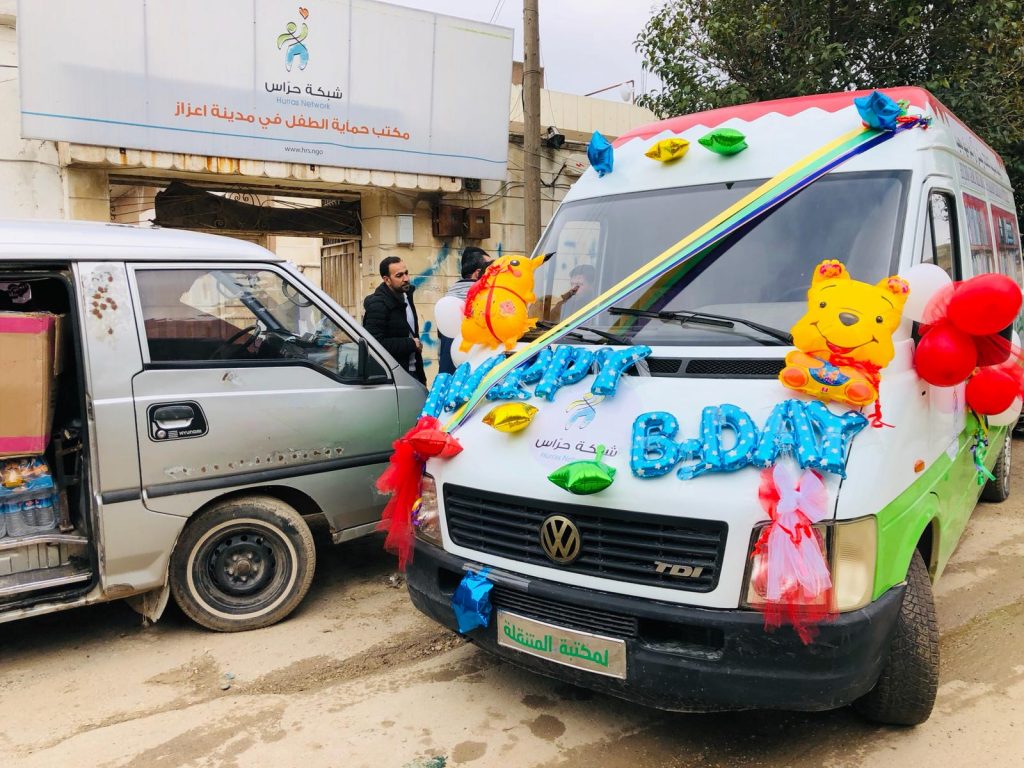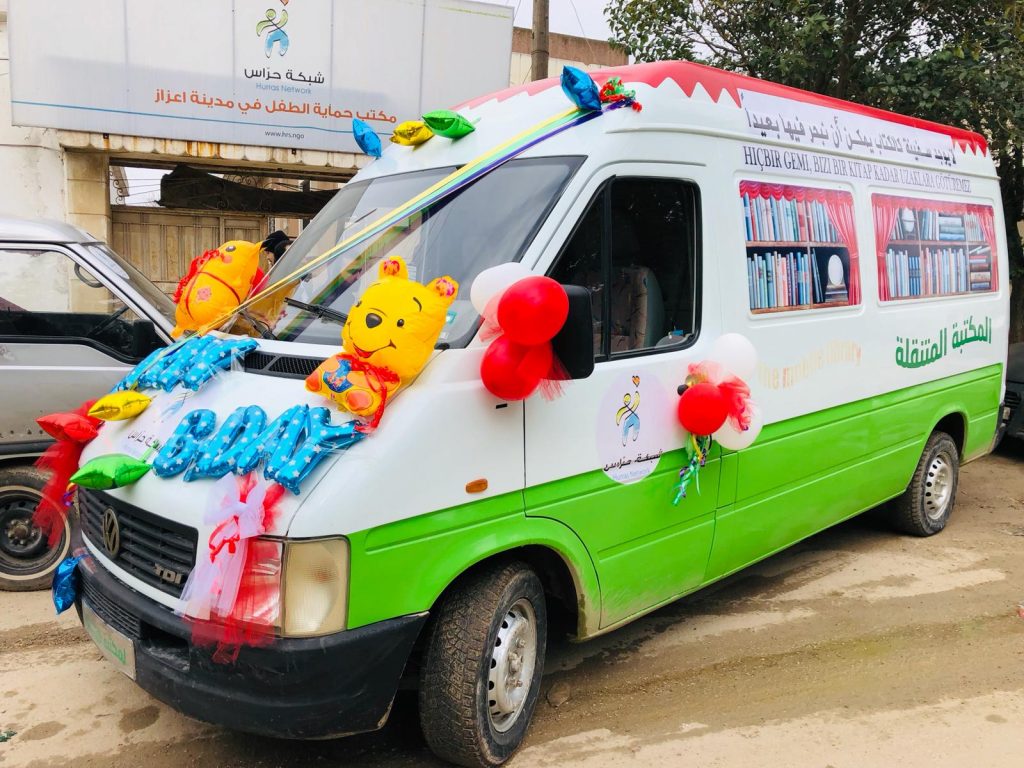 Al Halbouni also asserted that one of the library's main objectives is to keep children away from the atmosphere of conflict and war through Cultural and leisure activities and sports competitions.
Maryam Khalil, a 25 years-old teacher in the northern Aleppo countryside, sees the library as one of its kind in the region and it can compensate the children for what they have lost in the previous years due to the absence of schools, libraries, and other cultural centers, and enhances children's intellectual and cognitive abilities and encouraging them to learn more.
On the first day of its inauguration, the project was well received by children and teachers at Bab Al Salama camp during the ceremony and recreational activities for children provided by the library team.
Mohammed Ismail, a former teacher and the father of a 6 years old "Amjad", who attended the ceremony, he wished the library would increase children awareness and improve their attachment to books, especially after the extensive use of electronic devices such as television and mobile phones. "I have an obsession to find ways to develop my children's skills and I find it difficult due to the lack of libraries, and also because my children have been out of school for many months," he said
Amjad took great pleasure in the library and found the books he likes so he chose 3 storybooks, "I will try to explain it to him in a simple way if he faced difficulty in reading or understanding of the content." Mohammed added
Hurras network officials said that the Library van seeks to develop children's social values, improve their skills, provide a safe and healthy environment for them, and provide psychological care for children with different educational and psychological needs in order to integrate them into society.